PRESSKIT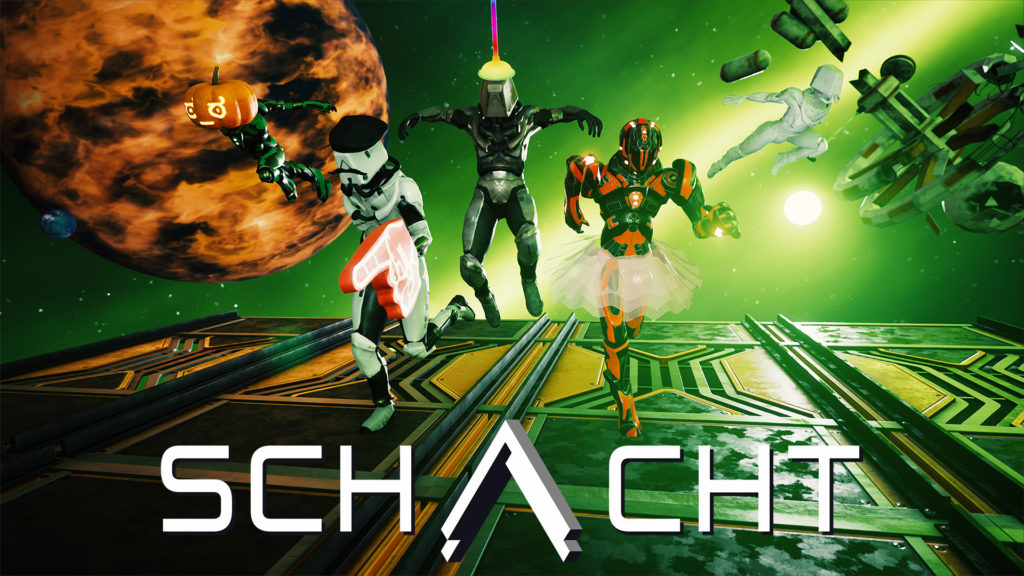 Download the presskit as *.zip (11,4MB)
Factsheet
Game:
Schacht
Genre:
3D Platformer
Developer:
LAB132
Description
Schacht is a fast-paced third-person 3D platformer, set in a sci-fi environment. In the highly competitive gameplay the players have to complete very challenging tracks as fast as possible. Therefore the character has 4 special abilities to overcome different types of obstacles like force fields, hacking platforms, slides or enormous gaps in outer space.
The tracks themselves are assembled from more than 150 handmade segments, generating a total number of more than 4 billion possible challenges. Finding the ideal racing line on this ever changing tracks is not easy and will leave one with the permanent feeling that there is still room for self improvement.
To compete against others and to maximize the fun, Schacht comes with a league system and highscores for daily, weekly and other challenges. It has a ghost system where the movement of friends and others is displayed directly on the track, the character accessories are somewhat silly but definitely worth a try and if this wasn't enough, there is even a level editor.
Try it once. Then try it over and over again.
Features
More than 4 billion procedurally generated levels based on over 150 handcrafted level elements
Character Accessory System
Daily, Weekly and Monthly Challenges
Asynchronous multiplayer / Ghost System
Highscores
Achievements
Hidden ducks / Easter eggs
Split-Screen local multiplayer*
Native 4k & HDR*
Seasonal Leaderboards*
Level Editor and Community levels to play**
* Probably only on PlayStation ** Probably only on PC
History
Schacht started as a student project at the Stuttgart Media University in 2015. Under the supervision of Prof. Dr. Stefan Radicke, 20 students from six different Bachelor and Master courses started working together on a 3D platformer. During the next semester, 25 students worked on Schacht and at the end of that semester, in july of 2016, the game was already in a really good state and looked promising enough to try to publish it on Steam. The game got through Steam Greenlight in under 2 weeks and was published in Early Access in October 2016.
A semester of improving and polishing Schacht followed. The students added several new features and after four and a half months of Early Access, the game was ready for its final release in February 2017.
Since the university is an official Sony developer, there had always been considerations to publish Schacht also on PlayStation. Parallel to the events at the university, a small group of the students started forming a development company for the time after their studies. This and the legal circumstances between all parties led to LAB132 now being publisher for Schacht on PlayStation.
Videos
YOUTUBE CHANNEL
Images
Logos
Additional
Team
(no particular order, and with some students having participated more than one time)
Korbinian Kram, Laura Körting, Maria Floruß, Manuel Maier, Marvin Pohl, Jan-Niklas Keck, Jakob Schaal, Henrik Geißler, Lesley van Hoek, Arno Pitters, Jordy Roelofs, Laura Vicuna, Alexander Scholten, Andreas Eichert, Andreas Koch, Kevin Kutzner, Dennis Müller, Marc Braun, Eva Mattausch, Ksenija Ozebek, Stefanie Schuster, Jannika Seybold, Daniel Platau, Patrick Moosler, Bradley Boorer, Stamatia Galimpa, Rebekka Jaumann, Alex Napolitan, Athanasios Valkanis, Ozan Öztürk, Victor Gogröf, Julian Burgschweiger, Marcel Remy, Serbay Sönmez, Alexandros Smponias